Study in Germany
With excellent teaching and research, Germany ranks among the best in the world.
Holding a degree from Germany gives excellent prospects in the global market.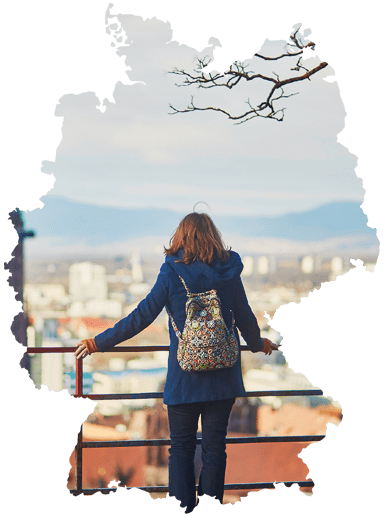 Benefits of Studying in Germany

A World Class Degree

Affordable
Accommodation

Travel & Explore
Europe on a Student Visa

Mandatory Health
Insurance

Dual Studies, a Great Opportunity

Cultural Revelations
Learn a New Language
Numerous Scholarship
Programmes
Admission Cycle
How does it work if you are thinking to apply to
study in Germany from India?
If you plan to study in Germany, shortlist 8-12 universities that you will apply to.
Visit university websites and take note of application requirements and deadlines.
Start working on admission forms and research accommodation options.
Gear up for the required standardised tests like GRE, GMAT, TestDaF or IELTS - depending on the course and university.
Register for GMAT/ GRE on time.
Sign up for language exams a month in advance.
Appear for the required tests around June. Keep some buffer time in case you need to retake it.
Shortlist the colleges you'd like to apply to and prepare for your application well.
Get in touch with your professors and managers for reference letters.
Give yourself a month to draft your SOP and essays.
Apply before the deadline!
Reply without delay to college e-mails.
Appear for personal/video interviews.
Once you get acceptance letters, notify the universities about your decision.
Apply for your student loan once you receive your acceptance letter.
Put together all the paperwork for your student visa and check the visa requirements.
Apply for your student visa in time as it takes time for processing.
Book your flight tickets and arrange for an international debit/credit card.
Gather all your relevant documents and their photocopies to take along.
Check out the pre-departure checklist!
Top Courses To Study in Germany
For Indian Students

Engineering

Business
Management

Humanities

Maths and
Computer Sciences

Fine &
Applied Arts
Wondering what you get when you apply for an education loan for Germany from Auxilo?
Here's a look at our AUXsome Advantages!

FASTEST LOAN SANCTIONS
Our processes are in place to fast-track documentation and create a smooth experience for you, so that you can receive your loan swiftly.

100% Financing
We cover all education related costs, such as tuition fees, examination fees, living expenses, travel expenses & pre-admission costs.

Pre-Admission Loan
Our pre-admission loans offer 'proof of funds' which helps with securing Confirmation of Admission at your chosen University.